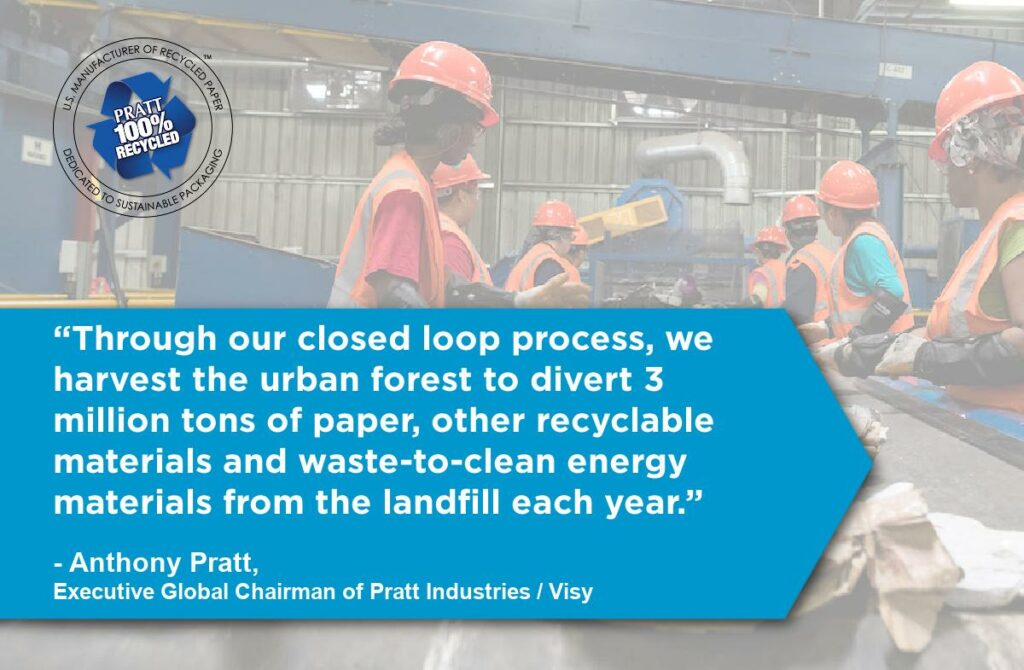 Anthony Pratt, Executive Global Chairman of Pratt Industries and Visy, often refers to Pratt's material recovery programs and circular strategy as harvesting the urban forest. "Through our closed loop process," says Pratt, "we harvest the urban forest to divert 3 million tons of paper, other recyclable materials and waste-to-clean energy materials from the landfill each year."
To better explain what it means to harvest the urban forest and why it is important for Pratt, our customers and their end-users, we spoke with two leaders and experts on sustainability, material recovery and recycling.
Between Cathy Foley and Shawn State, there are 50 plus years of experience and accumulated knowledge on recycling and sustainable initiatives for the paper and packaging industry. Foley has served as the Executive Vice President, Industry Relations & Supply Chain for Pratt since 2016, but she previously spent more than 20 years at the American Forest and Paper Association, including as Group Vice President. She was also elected to serve as the Chairman of the Fibre Box Association from 2020-2021.
Shawn State, President of Pratt Recycling since 2019, joined the company in 2001 and became a National Operations Manager for the recycling division in 2008. Prior to joining Pratt, Shawn held several positions in the corrugated packaging industry.
Defining the Urban Forest
"The urban forest is the used materials we are able to recover that go into making new products, specifically new paper and packaging," says Foley.
When Pratt collects recyclables, a process known as material recovery, material is diverted from going into landfills to instead be used for producing new products.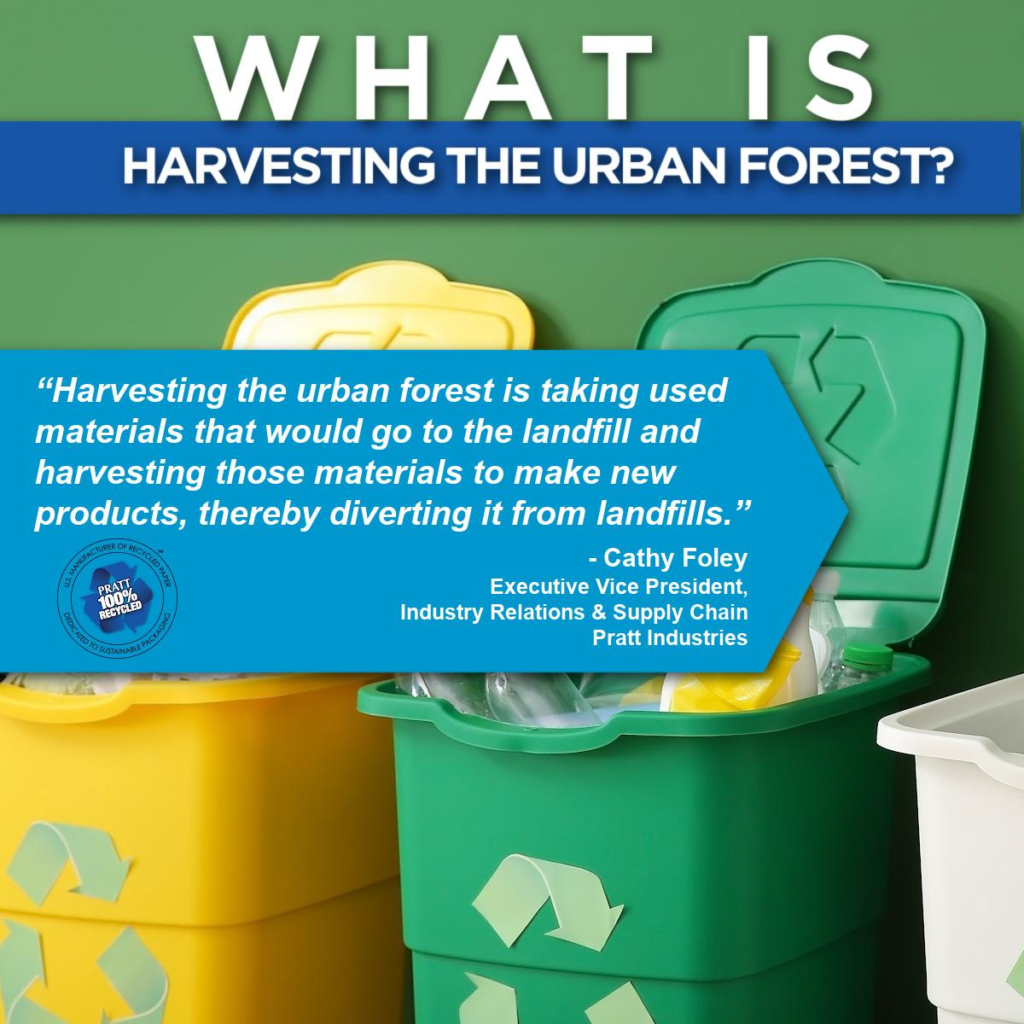 Harvesting the Urban Forest
In order to harvest the urban forest, Pratt Recycling offers recovery and collection services to businesses, organizations and communities. "We strive to help organizations, businesses, institutions and communities create and implement recycling and recovery programs to support their zero waste and sustainability objectives," says State.
To accomplish this, Pratt Recycling offers a number of services. "We receive recycled materials from every major metro area east of Oklahoma City including: Atlanta, Chicago, Dallas, Detroit, Miami, New York and Orlando, among others," says State. "Depending on the area, we recover old corrugated containers, mixed paper products, PET and HDPE plastics, steel cans, and aluminum." Pratt Recycling also works with commercial businesses and organizations to implement customized recovery programs that may include dropped trailers and equipment for managing the collection and breakdown of old corrugated containers and mixed paper products. Each year, Pratt diverts enough recyclables to stretch from the earth to the moon and back and diverts 16,500 cubic yards from landfills daily. That is a lot of "harvesting."
Closing the Loop
While recovering materials, which divert waste from landfills, is a core initiative in Pratt's overall sustainable platform, material recovery is also a key component of Pratt's circular strategy and close-the-loop customer program. "Pratt Industries is the world's largest, privately-held producer of 100% recycled containerboard," says Foley, "and our Recycling Division is a key component of that business strategy."
"Pratt Recycling is a business within Pratt Industries that finds, sources and ships feedstock material to the five (soon to be six) Pratt Paper Mills," says State. The material recovered from homes and businesses provide Pratt's paper mills with the raw fiber used to make new 100% recycled containerboard, or rolls of paper, which is then used to produce new corrugated sheets, packaging and displays at Pratt's box, sheet and retail plants across the United States.
"It is a true circular economy," says State, "and our close-the-loop program offers customers the opportunity to create a circular journey for their product packaging."
Close-the-loop customers purchase Pratt produced packaging. When the customer is done with the packaging, Pratt Recycling recovers the old corrugated boxes and sends them to a paper mill to use as feedstock. The mill turns the old paper based products into new rolls of paper made of 100% recycled material. The containerboard is sent to Pratt Corrugators to produce new corrugated sheets which are then turned into new packaging solutions. The Pratt customer buys that new packaging, which includes paper made from its old packaging, thereby creating a circular journey or closing the loop.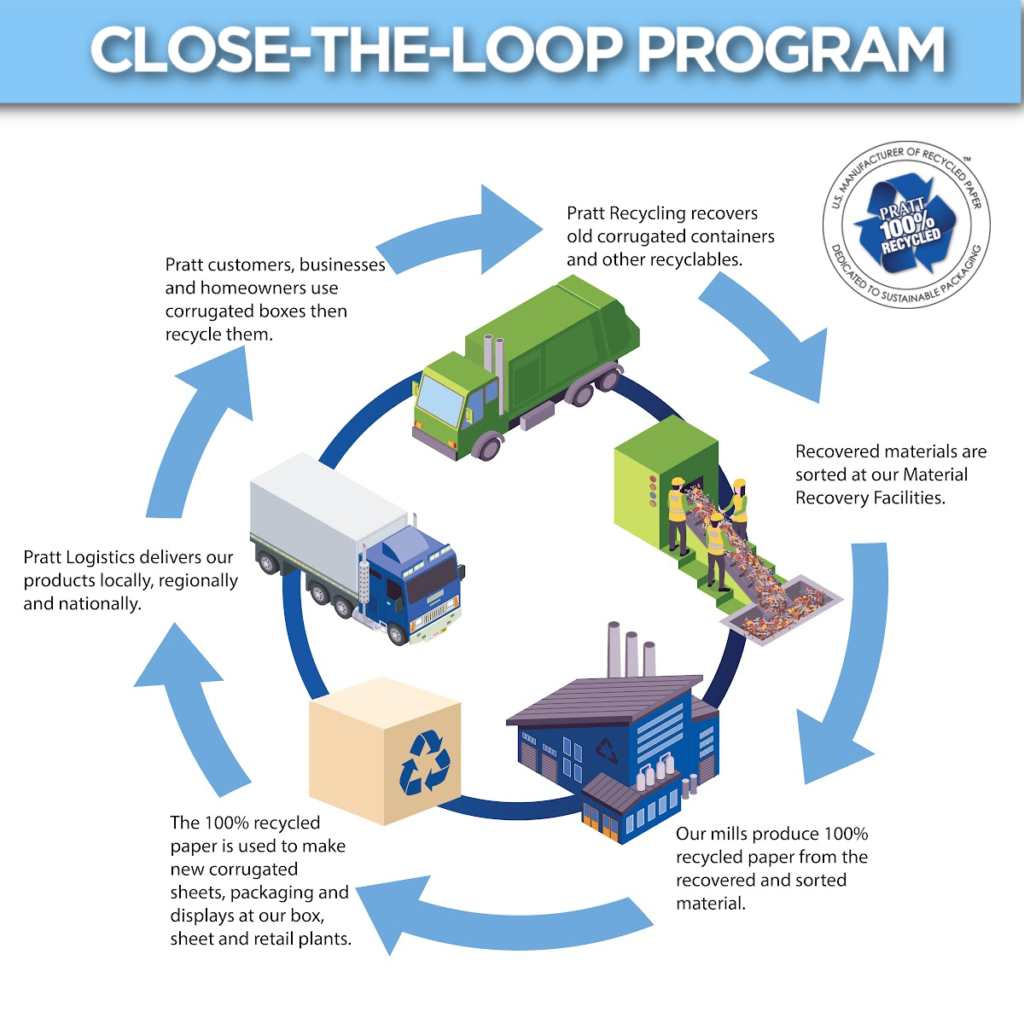 An Even Greater Impact
In addition to having a great circular story to tell, customers of the close-the-loop program may also receive credit for helping to reduce greenhouse gas emissions from landfills. As waste decomposes in landfills, it emits methane. According to the EPA, landfills are the third-largest source of CH4 (methane) emissions in the United States.
"Customers who partner with Pratt to implement our close-the-loop program discover it has many benefits," says Foley. "We help reduce emissions through landfill diversion which can help customers meet their carbon reduction goals. We also create something new from something used, which can be used again to create something new."
To learn more about Pratt's circular economy and our services offered by Pratt Recycling, please visit PrattIndustries.com.