At Pratt Industries, we take a holistic approach with our customers to look beyond basic packaging needs to develop vertically integrated, sustainable solutions to help protect, transport and drive sales for our customers' products. To do this, we employ an extensive network of highly skilled experts who apply the knowledge they've gained from various industries to utilize best practices, reduce operational costs and improve efficiencies. Below are a few examples of how Pratt was able to assist our customers in creating beyond the box solutions for their organizations.
Reducing Operating Costs
Partnering with our Value Improvement Program (VIP) team, a customer was able to reduce costs across its operations, including material, pallets, warehouse and freight. Pratt experts partnered with the customer to evaluate packaging, shipping and storage requirements for nearly 200 items. The Pratt team then performed tests to understand how changing containerboard grades, packaging dimensions and pallet configuration affected the items and overall supply chain costs. Based on these studies, Pratt recommended using less corrugated material more efficiently and optimizing the balance of case stacking on pallets. The result was more cases per pallet layer and a reduction in truckloads to create substantial savings in material, warehousing and freight.

"Pratt employs experts, highly skilled in packaging design and supply chain efficiencies across our organization to ensure we are supplying the best solutions and options for all of our customers," said Yavuz Aksan, Director of Innovation Development for Pratt. "In addition to local and regional experts, we also have a value improvement, or VIP, team who may be tapped to engage directly with customers to evaluate their operations and supply chain processes to provide an even greater level of partnership and support when a situation calls for it."
Product Optimization
In one such situation, a food manufacturer needed to increase productivity. The current process was for employees to hand stack trays onto its production line. Pratt partnered with the customer to evaluate the benefits and costs of adding automation to the line. By working with OEMs (original equipment manufacturers), Pratt was able to test multiple options to determine the most efficient and cost-effective solution for the customer. The result was increased productivity and reduced labor costs by reassigning the employees to other areas of need.
Transportation Efficiencies
In another example, Pratt experts were challenged to find a more cost-effective way to package products for transportation and inventory. A customer was placing each product into separate primary packaging then placing those packages into regular slotted containers (RSCs) to be loaded onto pallets and shipped to a fulfillment center. Once products were distributed, the fulfillment center was then throwing away approximately half of the RSCs. Pratt was able to redesign the packaging, using a combination of pre-glued, in-fold layer trays and partitions for load support. The result was a reduction in RSCs used, and therefore discarded, labor savings and a solution that still protected the products throughout the transportation and storage process.

"At Pratt, we want to create valuable relationships which include trust and collaboration with our customers," said Lachlan Keith, Director of Strategic Accounts. "We recognize the strain that inflation and cost escalation have put on customers' operations, financial goals, and team members. We strive to offset as much of that as we can with our highly skilled VIP team."
Faster to Market Results
While improving efficiencies often results in cost reduction , sometimes the goal goes beyond reducing cost to creating faster in market solutions. This was the challenge the VIP team faced with a customer whose work-in-progress took up significant space and was a bottleneck to getting product out the door. The customer used corrugated vents and bags for its work-in-progress bins. Pratt's team found that the ventilation in the bins was poor due to few and unaligned vent holes obstructing proper airflow and leading to longer cure times. The recommendation included vent holes that lined up in reusable corrugated bins and changing the venting in the bags to reduce contaminants. The result was a reduced cure time which created faster throughput and greater availability of product in the market.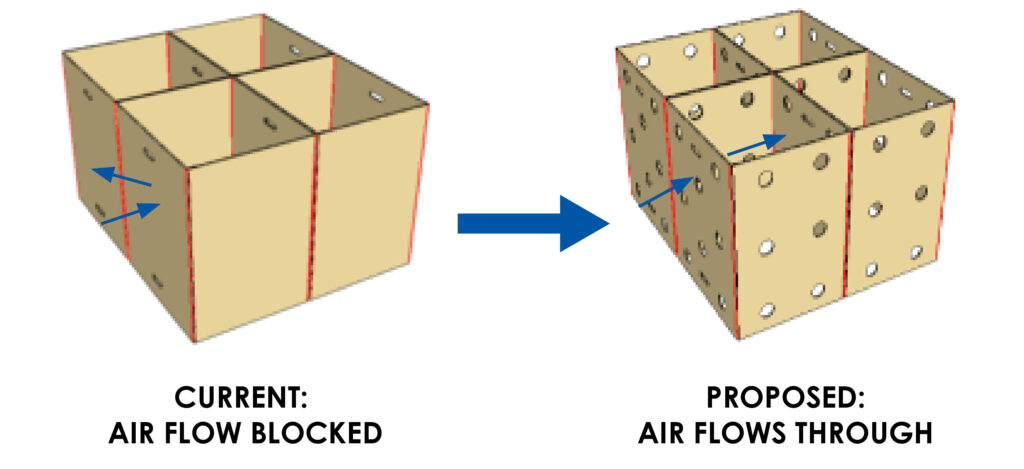 Creating Value, Relationships & Partnerships
"We evaluate our team based on the value we provide to the customer," says Aksan, "but value goes beyond cost savings and improved efficiencies to valued partnerships. We are proud of the long standing relationships we have with many of our customers."
"These additional services, including access to the many packaging and industry experts we employ, is so critical right now," says Keith. "Our customers are facing significant inflation and increases in most of their input costs. Pratt is able to provide services that go beyond a sustainable, packaging solution to provide operational intelligence, support and a true partnership."
To learn more about the ways Pratt can help provide beyond the box solutions for your business, contact your sales rep today or visit PrattIndustries.com