March is Women's History Month, commemorating and encouraging the study, observance and celebration of the vital role of women in American history. At Pratt Industries, we value the dedication, experience and hard work of all of our employees. However, we want to take this opportunity to showcase how the inclusion of women in manufacturing brings new and diverse viewpoints, boosts morale and increases our organization's talent. We recognize and value the many contributions that women bring to our teams and strive to provide opportunities for women at all phases of their careers.
Stronger Together
Increasingly, women can be found on manufacturing production floors across the country. Of the roughly 15.8 million manufacturing workers in the U.S., thirty percent are women1. We spoke to one all-female crew at Pratt's Corrugator in Valparaiso, IN.
Lorraine Wagner, Erika Wanderski and Erica Ciastko, have become an integral part of the third shift at Pratt's Valparaiso plant. Together, they coordinate an entire production process, from setting up the equipment to loading corrugated board into the machine, stacking and finishing the product for shipping. The team works together to ensure that each order is completed to the proper specifications and quality expectations.
"We take pride in the packaging that we produce," said Ciastko, machine pre-feeder. "To make sure that customers receive high quality products, we work closely with one another to ensure that each step in the process is done correctly."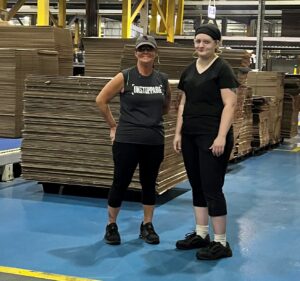 "It truly is a team effort among the three of us," added stacker operator, Wanderski. "All I have to do is ask for help, and Erica or Lorraine are there for me. It makes work so much better when you enjoy the people on your team and the work that you do."
"I decided to work for Pratt after researching the company and learning about what it was like to work here," said Wagner, machine operator. "Everything that I'd heard was true. I've been able to grow in my career with the company and learn new things every day. My team makes working at Pratt even that much more enjoyable. We're like a family."
Leading the Way
As plant managers, shift supervisors, customer service managers, sales managers and more, women are integral members of the management teams across Pratt. Sofia Ghrayeb, plant manager at Pratt's Houston Recycling facility, is responsible for coordinating all of the daily operations of her facility.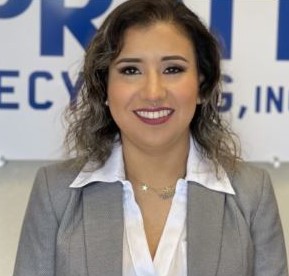 "For me, no two days are exactly the same, which keeps my job interesting," said Ghrayeb. "I manage everything from our safety training and employee hiring to coordinating facility maintenance and assisting our procurement team with materials to ensure that we are meeting the needs of our recycling customers. These varied responsibilities allow me to continuously learn new things and expand my skills."
Ghrayeb shares that she continuously strives to focus on employee safety and engagement, ensuring her employees have all of the resources, training and support that they need to be successful in their jobs.
"I want to make sure that I continue to run a safe and efficient operation," Ghrayeb adds. "Long term, I want to continue growing within Pratt. I really enjoy the culture and the people that I get to learn from and work with every day."2
Employee Resource Groups
In addition to support from co-workers and plant leaders, Pratt recognizes the need for individuals in similar roles to share ideas with one another. One such employee resource group is the Sales Women of Pratt (SWOP) which connects saleswomen from across the company. Group members can reach out to one another to discuss new sales practices, brainstorm solutions for customer needs and provide support and guidance across a number of topics.
"I was completely new to corrugated packaging when I joined Pratt two years ago. Having the guidance and resources provided by SWOP members has been invaluable," said Chloe Wolfe, Sales Representative for Pratt Converting in Grand Rapids, MI. "My fellow SWOP members are willing to impart their knowledge to me and others. I know that I can go to them with virtually any packaging question and within hours or even minutes, I will have multiple suggestions to help me. It's energizing to be a part of such a dynamic group of women."
Karen Wright, a founding member of SWOP and current SWOP planning committee member, shared that the group has nearly tripled in membership since it began eight years ago and regularly plays an important role in the organization's holistic sales efforts.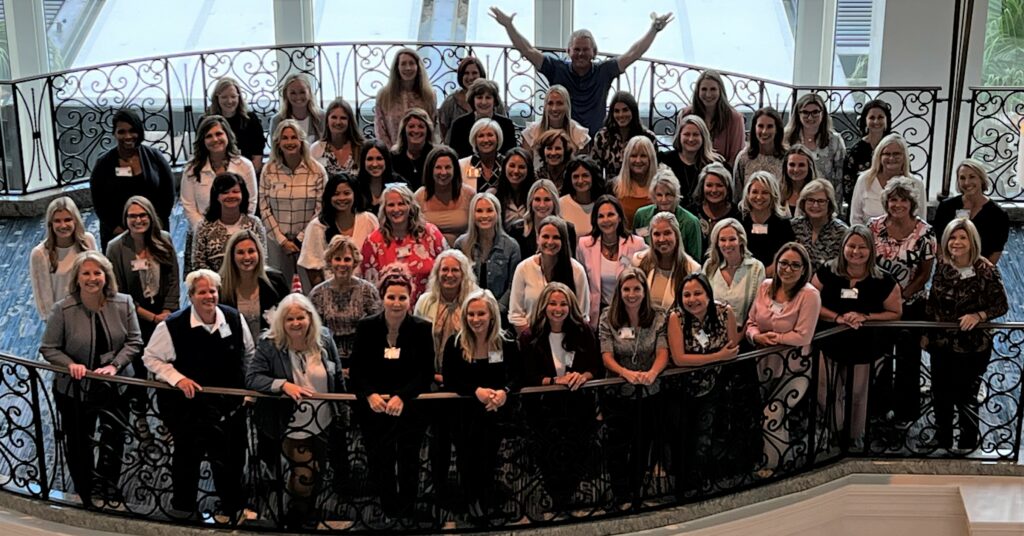 "The group is truly amazing," Wright shared. "The networking and support that group members provide one another is invaluable. It has become a tangible tool to help us be successful in our sales efforts across the organization."
The contributions made by SWOP have been recognized by leaders of the company as well. The group is serving as a blueprint for the creation of similar resource groups for other job functions. The goal of these groups is to assist and encourage employee success and to promote career longevity and growth.
More Than a Job
Time and again, women throughout the organization have noted that working at Pratt has afforded them the opportunities they wanted and needed throughout various life and career stages.
"Pratt Industries is more than a place of employment to me," shared Allison Jepsen, operations manager at Pratt Corrugating in Rockwall, TX. "When I came to work for Pratt, I was a young mother who needed to provide for my children. Pratt afforded me the stability to do just that and also gave me a work family who supports one another through the good and bad times."
"When I meet women considering a career in manufacturing and with Pratt, I encourage them to pursue it because it has given me so many opportunities," said Sherry Huber, quality manager for Pratt Corrugating in Lewisburg, OH. "From learning new skills to enabling me to raise my family and send my kids to college, Pratt has supported me and my goals."
To learn more about joining the Pratt team, visit Careers.PrattIndustries.com.
---
1 Thomas Insights: Women In Industry: By the Numbers
2 ISRI Article: MRF Operator from Pratt Industries Shares Safety Goals and Processes